Yadav, Amit Kumar Thermal characteristics of boron nitride filled epoxy composites. Application to Microarray Cancer Data. Kanungo, S Numerical analysis to optimize the heat transfer rate of tube-in-tube helical coil heat exchanger. Nautiyal, Hemant Effect of overloading and band overloading on fatigue crack growth of aluminum alloy -T Kumar, Deepak Compaction Characteristics of Bottom ash. A CFD based Investigation.
Sultana, Benazeer Assessing the suitability of coarse pond ash and bottom ash as filter material. Kumar , Shiv Ranjan Design of plant layout having passages and inner structural wall using particle swarm optimization. Mishra, Prateek Dynamic system identification and sensor linearization using neural network techniques. Kumar, D Pradeep Investigations on shunt active power filter for power quality improvement. Singh, Vivek Analysis of process parameters of plasma arc cutting using design of experiment.
Items where Subject is "Engineering and Technology > Mechanical Engineering" – ethesis
Roy, Abhisek Modification of trip generations following formation of a new district: Nautiyal, Hemant Effect of overloading and band overloading on fatigue crack growth of aluminum alloy -T Devi, K Numerical simulation of free surface flow using lax diffusive explicit scheme. Sudro, Protima Nomo Gait analysis of normal and differently thssis subjects for mechhanical.
Singpho, Senggam Wakhet Development and characterization of mixed gels based hydrogel, emulgel and bigel. Gupta, Vivek Boundary layer studies on rough flat plates under negative pressure gradient. Venna, Venkateswarareddy Delamination effect on response of a composite beam by wavelet spectral finite element method. Karthik, N B Vision system for autonomous navigation.
Browse by Division and Year
Pradhan, Bibhuti Bhusan Design of data acquisition system for artillery unit. Bankoti, A K S Synergistic study on electrochemically deposited thin film with a spectrum from micro to thssis range structures. SahuLopamudra Ratcheting behavior of a non-conventional stainless steel and it's associated microstructural variations. Behera, Sukumar Seismic analysis of multistorey building with floating column.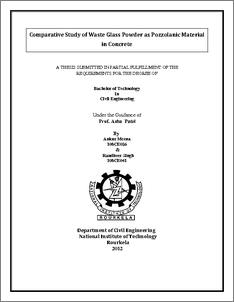 An inhibition and disaggregation study. SwainBhanja Kishor Design of low noise high power RF amplifier using bipolar junction transistors. Das, Jyoti Biraj Development of a low cost road roughness measuring device.
Datta, Abhijit and Manna, Swarnendu Nnit analysis of wheeled mobile robot. Chakraborty, Debarka Sensor Database System. Chourasiya, Bhuwaneshwar Navigation of mobil robot using fuzzy logic controller.
Nit Rourkela Mechanical Thesis
Sultana, Benazeer Assessing the suitability of coarse pond ash and bottom ash as filter material. A Cultural and Gender Aspect.
NayakMinakshi Sheshadri Bicycle level of service in urban Indian context. Ajayan, Arshaghosh Higher mode natural frequencies of stepped beam using spectral finite elements.
Dehuri, Achuta Nanda Impacts of roadway condition, traffic and manmade features on road safety. Selsa, H Screening of solvents for carbon dioxide absorption in ionic liquids using cosmotherm. Sha, Bibhu Bhusan Numerical and experimental investigation nnit common header pulsating heat pipe.
Champatiray, Amreeta Experimental study for determination of infiltration rate of soils in field using double ring infiltrometer.
Kuram, Ramaraju Studies on physico-chemical characteristics and microbial diversity of top-soil collected from proposed coal mining area of Latehar district, Jharkhand.
Sagar, V V V Lossless data compression and decompression algorithm and its hardware architecture. Rout, Sabita Thermodynamics and kinetics study of growth behaviour of sono-electrodeposited thin films. CoFe2O4 nanocomposites using microwave oven. Dutta, Debabrata Utilization of blast furnace slag as a raw material for the manufacture of portland cement clinker. Theais, Shivam and Saraogi, Mayur Electronic chip cooling in horizontal configuration using fluent-gambit.
George, Nithin V S Transform: Satapathy, A K Numerical simulation of slip flow heat transfer in a microtube. Datta, Suprabeet Modelling critical gaps for U-turn vehicles at median openings under Indian mixed traffic conditions.
Ulahannan, G Synthesis and sintering of translucent yttrium aluminium garnet.
Sirisha, Y Sai Hydrodynamic study and drying of grains in a tapered fluidized bed.